Deer Hunting Blinds for Many Successful Seasons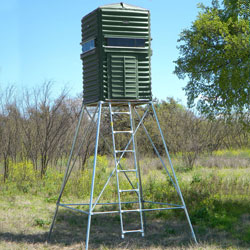 Among the many deer hunting blinds on the market today, there is none that is more durable or designed for hunting success than The Blynd. That's why The Blynd is a best-seller for many of our dealers.
Made of UV-stabilized polyethylene, The Blynd has ribbed walls for even greater strength. It comes with pre-installed window tracks and a door support made of aluminum and a ½" plywood floor.

The Blynd comes in a single model that is 4' x 4', and a two-man model that is 4' x 8'. Easy to assemble with just a few tools, The Blynd can be set up on your hunting lease or ranch in about 45-60 minutes.
Designed for Hunting Success
With The Blynd's 7" x 29" tinted window openings, you will easily see the deer coming and will have access for full motion shooting—but the deer won't see you. The single model has four window openings, while the two-man model has six.

Our box deer stands can be used with our custom-made deer tower stands. A number of deer blind accessories also are available to add to your comfort and ease of use of this deer hunting blind.

Made of weather-resistant materials, The Blynd is designed so that the windows can be closed, the door locked, and the blind left on your lease or your ranch until next season. But, it is still lightweight enough that even after it has been assembled, it can be moved to where the deer are active—no trailer needed!