The Bow Blynd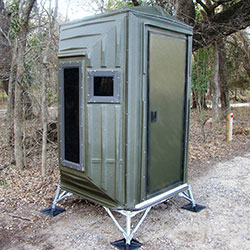 The Bow Blynd incorporates 42 years of innovation and product quality to create a bow blind based on our proven Blynd platform.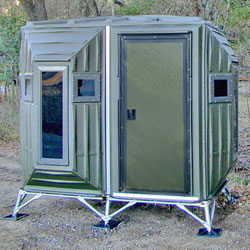 The 4x4 Bow Blynd incorporates 3 huge vertical, quiet technology open and close, acrylic windows that measure 9.75"x36" and 6 hybrid rifle/crossbow ports with measurements of 7.25"x7.25". The colossal 4x8 Bow Blynd has 5 vertical bow windows and 10 rifle/crossbow ports and supports two bow hunters easily. The 4x8 window measurements are the same as in the 4x4. In both models window to window is an amazing 60" or 5' and includes a full size door! The Bow Blynd also introduces the first plastic bow blind manufactured and our material accepts all plastic bonding paint allowing each bowhunter the ability to customize their Bow Blynd to its surroundings. The video below shows a prototype of The Bow Blynd in brown.




More from Cottonwood Creative

Order 4x4 model! Order 4x8 model!