Our off-season hours are Monday thru Thursdays only 8:30 a.m. until 4:30 p.m.
February Special - $50 discount on Black Blynds, 4x4 or 4x8 standard/regular door only

100% Made in the USA

Elevated Deer Tower Stands for Heightened Visibility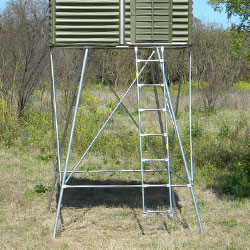 Deer tower blinds offer better sight lines and range of vision. And, these towers are designed specifically for use with
The Blynd
's 4x4 and 4x8 model
hunting blinds
.
You have the option to call us direct and place your order at (800)458-0263 or click on Purchase Online Today!
Purchase online today!
Features
Construction:
Made of EMT conduit.
Legs are 1-1/2" in diameter and the cross-bracings are 1" in diameter.
Towers will easily support 500 lbs.
The measurements at the base of each tower is 5' tower - 6', 10' tower - 7.5' and
15' tower is 9.5'
Towers and blinds require a tie-down system to secure them. See our tie-downs here.

Ease of Use:
The Blynd's Towers come with assembly instructions and hardware.
A tower should be able to be assembled within 1 – 2 hours by two people. You will need to supply an open end ½" socket wrench and a deep ½" socket wrench.

Our Warranty:
We will replace any part due to faulty materials and/or workmanship. The warranty does not cover improper use and/or weather-related damage.
Purchase online today!