New for Fall, 2021!
Our Full Size Door panel is sturdier and has a lockable handle!
Please note, the new door panel does not have a window

Visit our "accessory page" for more details
Prices are subject to change without notice
Due to constraints and unavailabilty of plastic sheet material,
ALL of The Blynds will be made from our original 1980
color, Black. Please call the office for 2022 pricing

100% Made in the USA

4x4 Blinds that Accommodate One Serious Hunter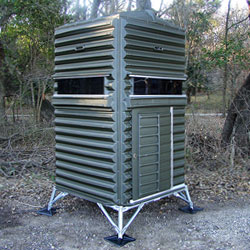 Please note: Due to material constraints and availability shortages, we have run out of 'OD Green' material. All of The Blynd deer blinds will be made from our original 1980 Black color, until further notice.
The Blynd's 4' x 4' model is one tough blind designed to provide rugged use for years—at an affordable price. In 2016 our Bow Blynd was added to our product line and for 2018 we were pleased to introduce the "NEW" OD GREEN color for the original Blynd and The Bow Blynd. The Bow Blynd is currently unavailable. It is being redesigned by the new owner and will be available in time for the 2022 bow season.

When used as a ground blind, we recommend that you place it atop either posts, railroad ties, a wood pallet or you can purchase one of our 1' towers to keep it off the ground. This allows enough air flow beneath The Blynd to prevent the floor from rotting over time.

This model also can be used with one of our selection of different height towers. See all options for elevated hunting blinds here. There also are a number of accessories that can make The Blynd more comfortable and hunter-friendly. See our deer box stand accessories here.
Features:
Size:
4' x 4'
Purchase online today!

Construction:
UV-stablized polyethylene.
Ribbed walls
Pre-installed aluminum window tracks and door support
½" plywood floor
Visibility:
7" x 29" window opening in each panel (4 in the 4x4 model)
Tinted, bronze acrylic windows (Should be installed one in each chanel and then overlapped)
Off-Season Security:
Lockable door with piano hinge
Off-season window covers for the 4 window openings (To install Off-Season insert, remove windows and slide the insert into the inside chanel closest to the wall)
The Blynd comes with assembly instructions and hardware. It should be able to be assembled within 45 – 60 minutes by two people with a cordless drill with a Phillips head bit.
Towers
and
Accessories
are available for use with this product.
Our Warranty:
We will replace any part due to faulty materials and/or workmanship. The warranty does not cover improper use and/or weather-related damage.
Purchase online today!